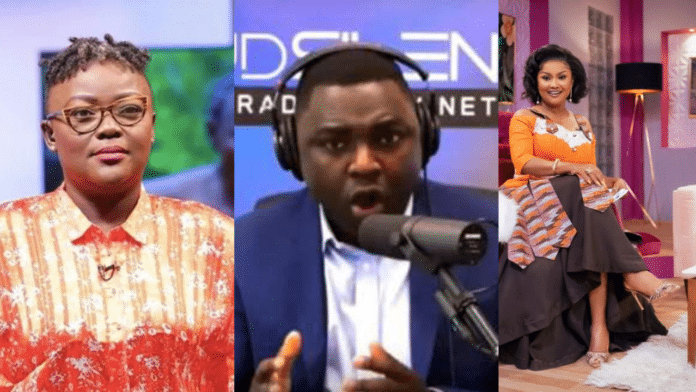 Empress Nana Ama Mcbrown has finally reacted to Nana Yaa Brefo and Kevin Taylor's fight about her.
For the past three days now, Kevin Taylor and Nana Yaa Brefo have been trading insults at each other over Mcbrown's heavy Facebook views.
Nana Yaa Brefo was the first to throw indirect jabs at Mcbrown, this triggered Kevin Taylor to jump to the actress' defence and insult Nana Yaa Brfo in the process.
READ ALSO: Wife in tears after discovering her husband gives a huge portion of his salary to his secret second family
The Angel FM presenter also fired back at Kevin Taylor just this morning and described him as retarded man.
Apparently, Nana Ama Mcbrown is very happy that Kevin Taylor is dealing with Nana Yaa Brefo on her behalf.
The versatile actress has shared a part of Kevin Taylor's insults on Nana Yaa Brefo.
Without uttering a single word, Nana Ama Mcbrown has applauded Kevin Taylor for insulting Nana Yaa Brefo on her behalf.
Watch the video below to know more…
Subscribe to watch new videos